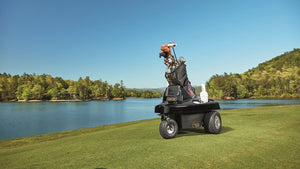 TEMPO WALK
MEET YOUR NEW CADDIE
Caddies and cars will always have a place in the game. Tempo Walk combines the best that both have to offer by using technology to bring back the simplicity of the game in an exciting, revenue-generating way. The Tempo Walk is a smart way to build new relationships with golfers, improve the pace of play, and generate excitement across the course. 
BENEFITS
Golfers will get more exercise by walking the course
A better experience and an appreciation of the nature and beauty of the course
Become an enthusiastic course advocate
Advance your golf game
Burn over 1,000 calories walking 18 holes
TECHNICAL FEATURES
95 pounds
24V VDC motor
4 units fit in 1 golf car space
Runs on state of the art wireless technology controller with improved water proofing. Touchscreen tablet gives golfers precision GPS positioning for exact distance-to-pin yardage. Improved collision sensors with enhanced diagnostic messaging and audible alerts for easy maintenance. Lithium Ion batteries power 36 holes of play with improved energy management [when not in operation].
AMENITIES
Cooler
Cup Holder
USB Port
Divot Repair Kit
STARTING AT
$4,500 per unit
Enjoy the course in a whole new way with the Tempo Walk, your hands-free caddie.
Browse: Tempo Walk
Get in touch: Contact Us
---