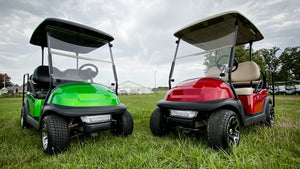 NEW Inventory
CUSTOM BUILDS
Currently, we are putting together work orders to build up some of our remaining inventory. We have an old fleet of 2015 Club Car Precedent Electric models with 2018 JCI Batteries that we are customizing and jazzing up.
These will be available for sale immediately and, when completed and available, will be posted in our Used Car Inventory, as well as on our Facebook and Instagram pages. 
Browse our inventory here.
SPECIFICATIONS
These vehicles will come equipped with brand new body panels in an array of colors. Colors will include: Beige, Sangria, Blue, Green, Atomic Orange, Synergy Green, Black, White, and Platinum. 
New seats will be added to a handful of these vehicles. This will include: Black, Grey, Beige, Premium Black, Premium Gray/Black, Premium Camello
Every vehicle will include a Mach-3 Seat Kit, which includes a flip / fold rear seat, Heavy Duty Springs, and an LED Light Kit, which includes headlights and tail lights. 
Wheels and Tires will either be swapped for Atlas or Mercury 10" or they will have standard tires with SS Chrome Hub Caps attached. 
CUSTOMIZE YOUR OWN
If you have any questions about what we are building or if you would like to custom build your own, please give us a call or send us an email. We can build up whatever you like with the parts and vehicles we have in stock!
(616) 891-6991
info@usgolfcars.com
---